Stocks remain depressed amid lack triggers KARACHI: The stock market witnessed more choppy trades on Wednesday as strong volatility saw KSE-100 index move between intra-day high by 111 points and low by 285 points. Attractive valuations, however, brought back investors toward the trading close which enabled the index to settle down by 30.18 points at 40,924.14.
Overall volume increased by 32.4 per cent to 506 million shares, while trading value decreased by 5.3pc to Rs12.4 billion over the earlier session. Major participation was once again prominent in second and third-tier stocks with 27 scrips hitting their upper locks. Foreign investors sold shares worth $2.91m. Mutual funds and individuals absorbed the sell-off.
"Rumours of increase in cement bag prices led some interest in DGKC, MLCF and FCCL," said Hammad Aman, Manager Equity Sales at Topline Securities.
UBL up by 1.5pc on announcement of earnings per share (eps) of 5.77 along with Rs3 dividend. Above expected eps of Rs18.85 led APL to gain 4.1pc. EFOODS gained 0.6pc despite below expected eps of 0.83.
Analysts at Intermarket Securities observed that E&P stocks staged a comeback on the back of rising crude oil prices despite trading under pressure throughout the session.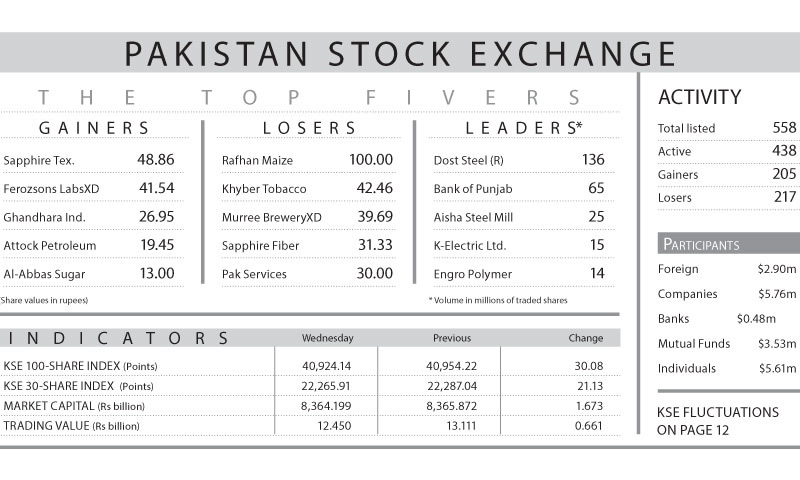 OGDC rose 0.73pc, POL 0.26pc and PPL 0.04pc managed to recover off their lows in the second half. Autos remained under pressure PSMC down 0.04pc, INDU 1.35pc and HCAR 0.39pc. Impressive performance was noted in MUGHAL, SPL, GHNI and FEROZ, all of which closed at their upper circuits.
"In the refinery sector major losers were led by NRL 3.06pc and ATRL 1.34pc as both declared their result for 1QFY17, which were lower than street estimates," said analysts at JS Global.
Source: http://www.dawn.com/news/1290987/stocks-remain-depressed-amid-lack-of-triggers